Sustainable Clothing Brands UAE: Empowering Style, Inspiring Sustainability
Posted by SAAD TARIQ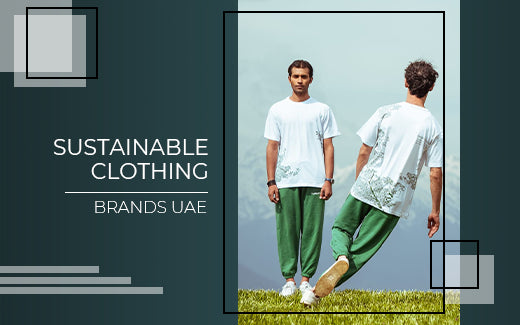 Sustainable Clothing Brand UAE: Inspiring Sustainability
22Ahead, a dynamic and innovative sustainable clothing brand in the UAE, is at the forefront of the sustainable clothing brand UAE movement. By empowering conscientious customers and promoting sustainability, this forward-thinking brand, created in Dubai, is revolutionizing the fashion industry. 22Ahead mixes elegance and eco-awareness to make a significant effect. The company has a strong dedication to ethical practices and unwavering quality.
The Rise of Sustainable Clothing Brand UAE
One of the top sustainable apparel companies in the UAE, 22Ahead, was born in Dubai, a city renowned for its luxury and cutting-edge design. In this thriving metropolis, sustainability and fashion smoothly converge, spawning a market of ethical shoppers and eco-friendly apparel companies. In the UAE market for sustainable apparel manufacturers, 22Ahead distinguishes out from the crowd by taking the lead in reimagining the future of fashion. Since its start, the company has embraced Dubai's innovative energy and infused it with a strong dedication to sustainability, distinguishing it from other sustainable apparel companies established in the UAE.
Empowering Conscious Consumers: 22Ahead's Ethical Impact on Sustainable Clothing Brand UAE
Empowering conscientious customers, a key objective shared by all UAE-based sustainable apparel manufacturers lies at the heart of 22Ahead's concept. The company aims to offer environmentally friendly alternatives that don't sacrifice style or quality since it recognizes the rising need for ethical fashion options among sustainable apparel businesses with a presence in the UAE. In keeping with the tenets of sustainable clothing businesses with UAE roots, 22Ahead allows customers to express their style while making ecologically responsible choices by providing expertly created apparel manufactured from eco-friendly materials.
Uncompromising Quality: A Testament to Sustainability in Sustainable Clothing Brand UAE
Like other
famous sustainable apparel businesses
established in the UAE, 22Ahead believes that sustainability and excellence go hand in hand. Like other UAE-based sustainable clothing manufacturers, the company is dedicated to producing the highest-quality apparel while also being environmentally sensitive. 22Ahead distinguishes itself from other sustainable apparel businesses located in the UAE by ensuring that its goods are created to last by utilizing high-quality, sustainable materials and professional craftsmanship. This strategy not only minimizes environmental effects and cuts waste, but it also fosters a culture of thoughtful purchasing, encouraging consumers to invest in classic items rather than rapid fashion trends, a philosophy supported by sustainable clothing businesses with a presence in the United Arab Emirates.