22AHEAD: Embrace the Summer Vibes with Sustainable Tank Tops for Women in Pastel and Vibrant Colors!
Posted by SAAD TARIQ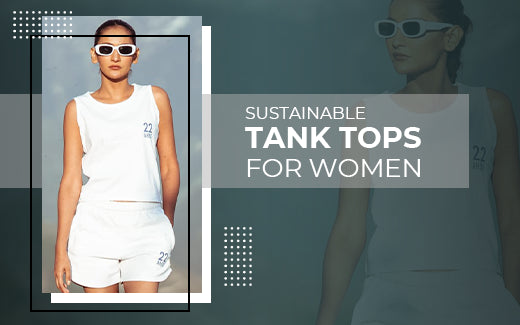 Your Ultimate Summer Wardrobe Upgrade for Eco-conscious Fashion
As the sun begins to shine brighter and the temperatures soar, it's time to embrace the summer vibes with the perfect wardrobe essential: tank tops for women! Whether you're a fashion-forward female, 22AHEAD brand has got you covered with a stunning collection of sustainable tank tops in an array of pastel and vibrant colors. Let's dive into the world of eco-friendly clothing and discover why these tank tops are the ideal choice for a stylish and conscious summer.
Sustainable Fashion: A Trend that Matters
In recent years, the fashion industry has witnessed a significant shift towards sustainability and ethical practices. 22AHEAD takes pride in being at the forefront of this movement, making eco-friendly choices that benefit both the environment and its customers. The brand uses high-quality organic cotton to create tank tops, reducing the ecological footprint associated with traditional cotton production. By opting for sustainable materials, 22AHEAD ensures that every purchase you make supports a healthier planet.
Tank tops for women: Pastel and Vibrant Delights
Summer is all about expressing yourself through colors, and 22AHEAD provides you with an extensive palette to choose from. For those who prefer a softer and more serene look, the pastel collection offers a range of calming hues that perfectly complement the warm weather. Imagine strolling along the beach in a white or bushy brown tank top, feeling cool and confident.
On the other hand, if you're someone who loves to make a bold statement, the vibrant collection will not disappoint. From lively lemon yellow to fiery coral red, these tank tops for women exude energy and charisma. Wear them to outdoor gatherings, music festivals, or simply when you want to stand out in a crowd. The options are limitless, and the choice is yours!
Versatile Style: Dress Up or Dress Down
One of the many advantages of tank tops for women is their versatility. With 22AHEAD's collection, you can effortlessly dress up or dress down for any occasion. Pair a pastel tank top for women with a flowy skirt or trousers for an elegant summer brunch look. Switch to vibrant colors and team them up with our shorts or jogger pants for a more casual and chicer vibe. These tank tops are not only perfect for beach days but can also be easily layered under shirts or jackets for cooler summer evenings.
Cotton Comfort: Embrace the Breezy Feel
Summer fashion should be all about comfort, and that's precisely what 22AHEAD delivers with their cotton tank tops. The soft, breathable fabric ensures you stay cool and at ease, no matter how high the mercury rises. Bid farewell to clingy and uncomfortable clothing and welcome the relaxed fit of these eco-friendly tank tops.